Get new luxurious granite counter tops for your kitchen or bath. We help you select, design, fabricate, & install elegant and practical granite solutions. Variety of slabs and Colors. Call or come by today.
When it comes to designing your kitchen and bathroom one of the most important elements are the countertops. Countertops see a lot of action; in the kitchen they take some abuse from hot pans, chopping knives, and spilled liquids and in the bathroom they are the resting place for hot curling irons, hair dryers, spilled make-up and much more.
Countertops are functional but they also offer an aesthetic value to every space. They provide the perfect opportunity to enhance the visual appeal of your kitchen and bath. Other design opportunities include backsplashes in kitchens and baths.
One general consideration for kitchen planning is to be sure to consider entry doors and what direction they swing. The clear opening of a doorway should be a minimum of 32" wide which requires a 2'10" door. Doors should not interfere with other doors or objects like cabinets or appliances. If space is an issue, consider using a bi-fold door or pocket doors. This is a simple item to plan for, but a costly item to replace if changed after the completion of the project!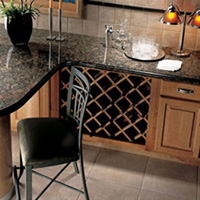 There are a variety of materials available today for countertops and many times no one material is best for all surfaces. This is especially true from a design perspective; combining different materials in creative applications always makes for a show stopper space!
In this section on Countertops and Walls, you learn about the multitude of products available for these surfaces such as ceramic and porcelain tile, natural stone and slab, solid surfacing and Quartz. We will cover everything you need to know before you make a purchase and how to maintain your new countertops to provide lasting durability and beauty.
Before you get started, consider the following:
Easy maintenance
Countertops of different materials

A natural material

Heat resistant materials

Stain resistant materials

Edge treatments

Backsplashes

Budget

Grout lines- do they bother you?

Islands- Do you have or are you planning one?
Integrated sinks.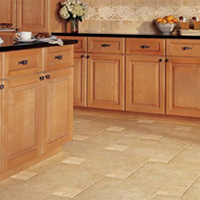 Countertop Information
The Basics
Types of Stone:
Granite - Granite is the number one choice for high use areas, such as a kitchen countertop, because it is extremely dense and durable.

Marble - Marble is a crystallized limestone that comes in many different color variations and usually displays a veining pattern that adds to its uniqueness. Marble is more porous than granite, therefore popular for bath applications rather than the more heavily used kitchen areas.

Limestone/Travertine - Typically, these stones are honed with the matte finish although some of the harder types can be polished. As these stones are even more porous than marble, they may require more preventative maintenance over time.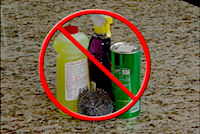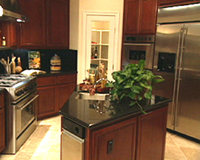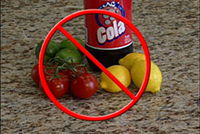 Natural Stone Slab
Slabs are solid pieces of stone that are used for countertops, backsplashes, wall and surrounds.

More expensive than natural stone tile.

Different stone types are better suited for different uses. Granite is the most popular slab for kitchen counters for hardness and durability.

Seams in slabs are possible and can be visible depending upon the application and layout.

Edge Treatments

You will have a choice of edge treatments for slab. Some edge details are simply the edge of the slab rounded or cut in different styles such as a bullnose, bevel edge, or ogee. The other type is called a laminated edge where there are two pieces of stone laminated together to form more of an overhang. With the laminated edges you will see a seam.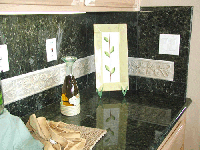 What About Sealing?
It is highly recommended that you seal your stone tile or slab after it is installed to provide additional stain resistance and to protect the stone's original beauty. There are different types of sealers depending on the type of stone. Scratches, stains, etching and dulling of the surface are all permanent damage and forever alter the appearance of your stone. Ask your design consultant for information about sealing.
The Value of Upgrading

Access to more durable stones

Wider selection of colors

Wider selection of edge details

Adds value to any home
Maintenance
There are several different types of natural stone and each has its own level of porosity. The more porous the stone, the more easily it can stain. Therefore, the more protection you will want to help guard your investment. Depending on your lifestyle, you may want to consider sealing your stone on a regular basis. Sealing will help slow down the staining process. Manufacturers recommend sealing once every one to three years depending on the amount of usage the stone area receives. Your Design Consultant can offer you recommendations about sealing.
Manufacturers can recommend specialty products designed specifically for their stone countertops. If these are not available you can us a neutral pH detergent or pure soap, such as Liquid Ivory, for spills or periodic cleaning. Make sure to rinse thoroughly and buff dry with a clean soft cloth. Too much cleaner or soap may leave a film and cause streaks.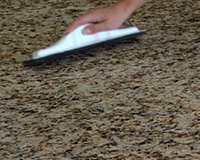 Do not use products that contain vinegar, abrasives or any ammonia-based cleaners, such as Windex. These products will dull the luster of your stone. Additionally, do not use retail grout cleaners or bathroom cleaners on your stone.
Acidic foods, such as lemons, tomatoes and soda can cause potential damage by changing the color of your stone. Also, protect your stone from oil-based products such as olive oil, cooking oil and oil-based cosmetics which can stain your countertop.
Also, please remember, it is the responsibility of the homeowner to maintain all caulked areas.
If cared for properly and routinely maintained, your new stone countertop and wall tile will bring your household lasting beauty
We sincerely look forward to working with you for all your flooring needs. Contact us today for your free estimate.