Hardwood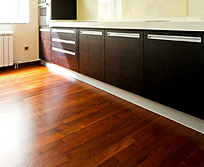 Hardwood is one of the most popular and fastest growing floor covering choices. The natural characteristics of wood add depth and a visual appearance that many other types of floors try to duplicate. Rich, inviting hardwood floors can add value to your home at resale time. Hardwood types, options and applications are more diverse than ever. Manufacturer's now have the ability to produce better quality finishes and superior construction techniques. The result of those advancements is that wood floors can now be installed throughout the home and over a wide variety of sub-floors.
one of America's most popular floors

versatile

can add warmth and character to any room

rich and inviting

beautiful to live with

easy to care for

add value to your home at resale time

more diverse and delightful than ever
The number of hardwood choices, patterns, colors, textures and price points can intimidate even the most experienced shopper. Knowing the basic styles can provide you with a firm foundation upon which to begin your hardwood-shopping journey. Choosing your ideal hardwood style is all about knowing the right combination of aesthetics, performance and budget that meets the needs of your lifestyle.
Personal Style - designs: medallions, running on the diagonal, or creating borders
Types
Pre-finished:
ready for installation

boards already sanded, stained and finished

harder, better- protected surface

wider variety of wood species

save hours of labor and cleanup

extended finish warranty
Unfinished:
allow you to have a custom job

you choose the wood species

it's sanded and stained on site

can level the surface after installation

no extended finish warranty.
Location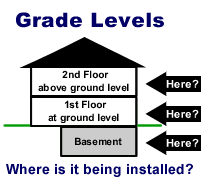 look at installation site for location limitations

solid floors - susceptible to moisture, not recommended for basements, or concrete slabs
Grain and cut
styles are result of the species available

species: red oak, white oak, maple, cherry, white ash, hickory or pecan

Each species has unique graining and texture

graining on the boards determined by the way it has been cut

two cutting processes. "Sliced Cut" -more uniform pattern and "Rotary Cut"- displays a larger and bolder graining pattern
Color
each species gives choices of color and finishes

choose coordinating or contrasting with cabinetry and furniture

darker woods- more formal

natural colors- more casual
Finish
different types for pre-finished or job site finished

lower gloss levels- better for active rooms

lower gloss or matte finishes minimize dirt and scratches

high gloss finish for formal décor
Upkeep
no more waxing and scrubbing

pre-finished- hard, durable, urethane-based finishes

chips of Aluminum Oxide added to increases the urethane finish's life

Floor protection 

factory finished: several coats applied to the surface

many companies apply 6-10 coats of a ultra-violet (UV) cured urethane

UV cured urethane: difficult to duplicate on a job site finish

factory finishes - more consistent and durable

do not wash your floor with a mop

water is not a friend of hardwood

floors won't watermark like old waxed floors

UV cured finishes do make floors easier to maintain than waxed floors.
Pre-finished choices:
uv-cured – factory finishes cured with Ultra Violet lights versus heat

polyurethane – clear, tough and durable applied as a wear layer

acrylic-urethane – different make up than Polyurethane, same benefits

ceramic – advanced technology allowing ceramics to increase wear layer resistance

aluminum Oxide – Added to urethane finish for increased abrasion resistance

acrylic Impregnated – Acrylic monomers injected into cell structure for hardness, then finished with a wear layer
Job-site hardwood flooring
start with a bare (unfinished) floor, than sand, stain, and finish

if subfloor is acceptable you can have a custom stained

can have a floor to match existing trim

advantage: smoother floor between planks

process is messy and takes several days
Methods:
Water Based Urethane – water used as part of the makeup of the finish

Solvent Based Urethane – oil used as part of the makeup of the finish

Moisture Cured Urethane – similar make up as solvent based urethanes, finish needs moisture to cure
Board widths
Boards come in various sizes: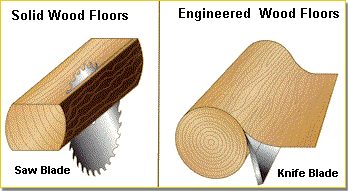 narrower board widths called "strips"

wider boards called  "planks"

board width visually impacts a room

narrow boards expand a room

wider boards work well in a larger room
Edge knowledge
floors come in either a beveled edge, or a square edge

each edge creates a specific look and feel
Edge types:
square edge: edges all meet squarely for a uniform, smooth surface (contemporary and formal)

eased edge: boards slightly beveled to length and/or the end joints, hides irregularities, plank heights, also called micro-beveled edge

beveled edge: distinctive groove, informal and country décor, beveled edges sealed completely, dirt easy to sweep or vacuum out of the grooves.
Hardness – Janka hardness test
measures the force needed to embed a .444 inch steel ball to half its diameter in a piece of wood

higher the number the harder the wood

one of the best methods to measure the ability of wood species to withstand indentations

general guide when comparing various species

construction and finish also important in the durability and ease of maintenance
WOOD SPECIES - HARDNESS RATING
Douglas Fir 660

Southern Yellow Pine (shortleaf) 690

Southern Yellow Pine (longleaf) 870

Black Cherry 950

Teak 1000

Black Walnut 1010

Heart Pine 1225


Yellow Birch 1260

Red Oak(Northern) 1290

American Beech 1300

Ash 1320

White Oak 1360

Australian Cypress 1375

Hard maple1450

Wenge 1620

African Pedauk 1725

Hickory 1820

Pecan  1820

Purpleheart 1860

Jarrah 1910

Merbau 1925

Santos Mahogany 2200

Mesquite 2345

Brazilian Cherry 2350
One of the main benefits of hardwood flooring is that they are low maintenance floors that require only a little more maintenance than sweeping on a regular basis to remove dirt. Cleaners are only needed when cleaning spills, removing scuff marks or major cleanings like spring cleaning.
Place walk off mats at every door that are regularly maintained.

You can and should vacuum your floors daily.

Use the correct floor cleaner.

Don't assume that any household cleaner should be safe for your hardwood floors.

Cleaners should be applied with a terry cloth head mop.

Less is more. Use only a small amount of cleaner.
Only use wax on floors with a wax finish.

Wipe up spills immediately.
For stubborn stains like chewing gum or candle wax try using a credit card.

Use Technical Support.