Get durable laminate flooring that looks like natural hardwood, slate, brick and other stone with the newest type of floating floor system installations from Select Floors.
There are many good reasons why laminate flooring is a popular choice in today's homes. Laminate is a manufactured product that simulates the look of hardwood, ceramic tile, natural stone and many other types of flooring. In the past, laminate floors have been easy to spot, but today's technology allows manufacturers to create realistic visuals and textures for an elegant and quality floor.
patterns mimic wood and natural stone

good choice for the look without the maintenance or cost

offers significant value

range of colors and styles, including exotic

durable for active lifestyles

stain resistant, no wax or varnish

less likely to fade in sunlight

sold in Europe for 25+ years

10-20 times harder than laminate countertops

floated rather than secured directly

installed over a variety of subfloors

one of the best selling floors in the US

great impact and indentation resistance

easy to replace, if desired.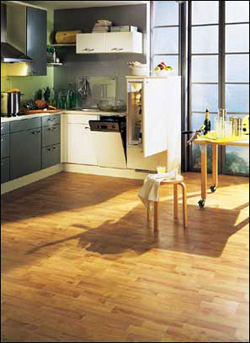 Laminate Flooring Styles
It goes without saying that you should use that unique sense when choosing something as critical as laminate flooring. Critical? Yes! Because any floor covering in your home impacts interior beauty, design, comfort, livability and upkeep. It's a fact, floor coverings can make or break a home. Knowing the basic types of laminate and laminate installation can provide you with a firm foundation upon which to begin your laminate shopping journey.
no more fake looks

looks are traditional, rustic, distressed and exotic

grains and texture more realistic than ever

number of photographs or screens determine quality

lighter colors make small rooms look larger

dark colors create intimate settings

choose coordinating or contrasts with cabinets or furniture

no matching colors and styles, be creative
 Laminate Brands Carried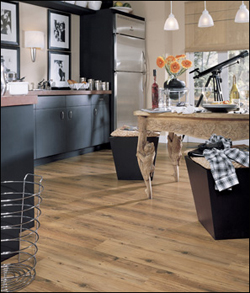 Forms of Installation
Glue-less Laminate Flooring
Quick and easy

Thin underlayment seals out moisture

Floors float over subfloors

Vapor barrier can be added for noise

Laminate flooring with attached underlay

Several different types of tongue and grooved locking systems

Attached underlayment to reduce noise levels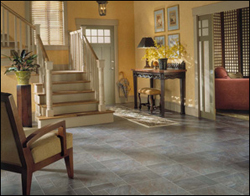 Glued Laminate Flooring
Requires a special formulated glue

Offered in planks and tiles
Pre-glued laminate flooring

No mess, glue already applied to the tongue and grooves

Quick and easy-to-install

Thin, plastic underlayment needed to seal out moisture and prevent glue from sticking
Laminate Maintenance
Place doormats or walk-off mats at each entryway to collect excessive moisture and dirt.

Sweep, dust-mop or vacuum (without a beater bar) your floor to remove loose dirt and grit.

Periodically use a damp mop to restore your floors shine.

Purchase a laminate cleaner specifically made by the manufacturer for your particular floor.

After damp mopping, use a clean, dry cloth to soak up excess moisture.

Use floor protectors on the bottom of your furniture and when moving furniture, lift rather than drag it across your floor.

Never use abrasive cleaners, steel wool or scouring powder.

Never use soap-based detergents or "mop and shine" products.

Never flood your laminate floor with water or cleaners.

Never attempt to sand or refinish your laminate floor.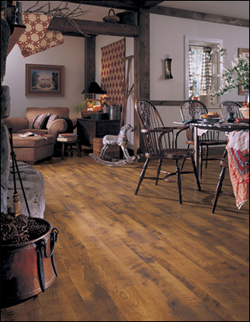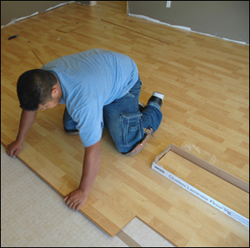 We sincerely look forward to working with you for all your flooring needs. Contact us today for your free estimate.