Shop the wide selection of ceramic wall and floor tile at Select Floors & Rugs in Leesburg, Virginia. Ceramic tile is durable, classic and, best of all, versatile offering the most colors, textures and patterns in beautiful natural stone and ceramic styles. The variety of shapes, styles and colors of ceramic tile comes is a large part of its appeal and popularity.
Ceramic tile flooring, walls, and backsplash beautify your home, enhance design and décor, meet your specific comfort, performance and budget needs, are easy to care for, and stand the test of time. Ceramic tile has been around for centuries, and with today's technology manufacturers have created new design and application possibilities that were not available a decade ago. If you have never lived with ceramic tile before or if it has been a long time since you have done so, you will be amazed at the wide selection of colors, sizes, shapes and new textures that are now available.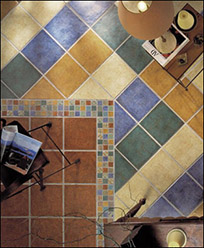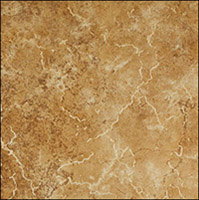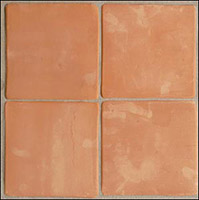 Ceramic tile is a durable natural product if properly installed will outperform and outlast other floor covering options. The easy care of tile is highly desirable given it resists stains, odors, and dirt. It is a low maintenance material easily cleaned with a damp mop or sponge.
Manufactured using natural materials, ceramic tile is environmentally friendly and does not retain odors, allergens, or bacteria. It is beautiful and versatile with a virtually unlimited number of colors, sizes, styles, shapes and textures.
 Ceramic Tile Brands Carried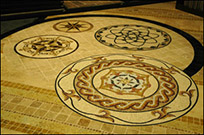 Ceramic tile is available in a number of styles. Each style has its own characteristics and performance capabilities. Our professional design stylists will help you carefully consider all of each style's features, qualities and conditions in making your buying decision.
Glazed - Matte, semi-gloss high gloss. Offers better stain and moisture resistance than unglazed.
Unglazed – hard and dense with various surface treatments and textures. Commonly installed outside with good slip resistance. Sealing is required to help prevent staining.
Porcelain – hardest and densest tiles available. Coloring goes all the way through, it is non-porous, resists scratching and can withstand temperature extremes.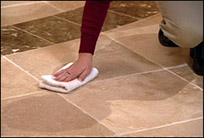 Cost Effective Alternative
Ceramic tile is commonly preferred over stone due to price and maintenance. Tile can also feature heavy textures, chiseled and hammered edges, and resemble tumbled stone. It can also simulate marble or granite with a very smooth polished feel. Textures vary in degree of shine ranging from dull to semi-gloss to glass like.
Ceramic tile is a versatile product. Used both indoors and outdoors. Outdoor tile with a non-skid finish is designed for safety and is resistant to frost. Outdoor tile use has very low water absorption, minimizing cracking, chipping and other effects of expansion when the temperature falls below freezing.
Ceramic tile can result in a uniquely custom result. With decorative inserts, patterned oarders, medallions and mosaics the concepts are nearly endless.
Tile Maintenance
Sooner or later, time and traffic, life and living, will take its toll on any floor covering. Ceramic tile is no exception. But take heart, keeping your tile as clean and beautiful as its first days in your home just takes know-how. In fact, understanding the best methods to care for your ceramic flooring will help maintain its beauty and keep it close to its original condition. Plus, knowing what's expected of you regarding upkeep can be a determining factor in which type of ceramic tile to purchase. Knowing how to care for and maintain your ceramic floor will help keep your investment beautiful, durable and a source of pride for years to come.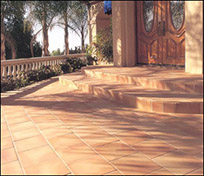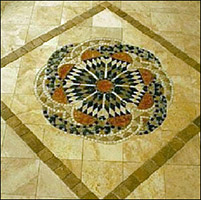 Maintenance - Some helpful tips on treating your new tiled floors
Do
Do have a damaged or broken tile removed and replaced only by a qualified tile contractor.
Do rinse entire area with clear water after cleaning to remove any cleaning solution residue.
Do sweep or vacuum floor areas prior to cleaning to remove any dust or debris.
Do test scouring powders and sealants on a small area prior to full application.
Do use a sealer on grout joints shortly after installation and use products compatible with cleaning grout joints.
Don't
Do not harsh cleaning aids like steel wool pads or any scouring pads containing metal.
Do not use a cleaning agent that contains color (unglazed tile only)
Do not use cleaners containing acid or bleach for routine maintenance.
Do not use wax-based cleaners, oil-based detergents or sealants to maintain your tile (sealants may be used on grout joints).
Routine Care
Glazed, unglazed, stone, glass and soft clay tiles may require different cleaning agents. Clean glazed tile products regularly with an all-purpose, non-oil-based household or commercial cleaner which is also grout-joint-cleaning-compatible. Multipurpose spray cleaners for everyday use will remove soap scum, hard water deposits, and mildew and can be used on wall tile areas in residential baths and showers. You should clean unglazed tile with concentrated tile cleaners that have a neutral pH for safe regular use. These are better able to removing grease, oils and normal spills from unglazed products (these products may also vary depending on application, use and amount of traffic). For routine cleaning of glass tile, use any non-abrasive cleaning compound recommended for either glass or tile.
Once-a-Week Mopping
Damp-mop your ceramic floor a minimum of once each week, more frequently for heavy traffic areas. (Wait at least 72 hours after initial installation before mopping or cleaning to so new tile and grout can dry adequately.) This will decrease wear and abrasion from grit and soil. Do not use detergents, soaps, or any of the chemicals listed above.
Floor Mats Protect Your Floors
High-quality floor mats at entrances and exits are key to reducing tile wear. They collect and trap all the corrosive substances that can be tracked in from outdoors, including dirt, sand, grit, oil, asphalt, and more. Also use mats in areas of constant pressure, such as in front of vanities, kitchen sinks and stoves.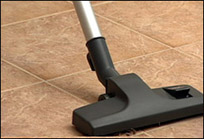 We sincerely look forward to working with you for all your flooring needs. Contact us today for your free estimate.