Tile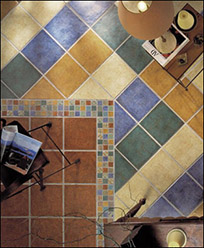 Products that beautify your home, enhance design and décor, meet your specific comfort, performance and budget needs, are easy to care for, and stand the test of time. Ceramic tile has been around for centuries, and with today's technology manufacturers have created new design and Application possibilities that were not available a decade ago. If you have never lived with ceramic tile before or if it has been a long time since you have done so, you will be amazed at the wide selection of colors, sizes, shapes and new textures that are now available.
Ceramic Tile
natural product made up of clay, minerals, and water

has a ceramic coating on the tile body, giving it color and finish

natural choice for your interior floors and walls

Qualities
Durable
if properly installed it will outperform and outlast other floor covering

Easy care

resists stains, odors, and dirt

can be cleaned up with a damp mop or sponge

keeping your grout dirt free requires regular cleaning

low-maintenance material

glazed tiles require care and attention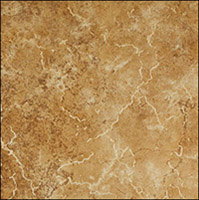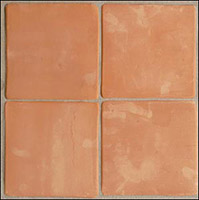 Scratch resistant
Grade III and IV are extremely resistant to scratching

never have to worry about a cut or tear
Environmentally friendly
manufactured using natural materials

does not retain odors, allergens, or bacteria
Beautiful and versatile
technology created unlimited number of colors, sizes, styles, shapes and textures
Fire resistant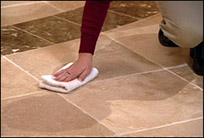 doesn't burn nor emit toxic fumes

hot pans will not scorch or melt the surface
Water resistant
dense body permits little or no accumulation of moisture.
It goes without saying that you should use that unique sense when choosing ceramic tile. The ceramic tile that you select will impact your home's interior beauty, design, décor, comfort, livability and upkeep. It's a fact, floor coverings can make, or break, a home. Due to the number of tile choices, patterns, colors, textures and price points can intimidate even the most experienced shopper.
3 types of ceramic tile
Six basic styles of carpet

Textured, Saxony or plush, frieze, cable, looped, and cut & loop.

Each style has its own characteristics and performance capabilities.

Carefully consider all of each style's features, qualities and conditions in making your buying decision.
Glazed
coated with glass-forming minerals and ceramic stains

yypically have a matte, semi-gloss or high-gloss finish

offer better stain and moisture resistance than unglazed

high gloss finishes- more slippery and show scratches

matte or textured finishes- help with traction and scratches, dirt is less visible.
Unglazed
hard and dense

various surface treatments and textures

typically installed outside

good slip resistance

do require sealing to help prevent staining.
Porcelain
fall in the ceramic tile category

hardest and densest tiles available

color goes all the way through

non-porous

resist scratching

can withstand temperature extremes.
Size
manufactured in sizes ranging from 1" to 24" square

normally boxed and priced by the square foot

tile size is relative

referred to by nominal size, not its actual size

during firing ceramic tile will shrink by about 10% in size

most popular are larger sized tiles (13" by 13", 16" by 16" and 18" by 18")

determining tile size starts with the size of the room

small rooms don't necessarily call for small tile

incorporating a larger size tile in a smaller room will visually increase the size of the space

fewer grout lines will help create a cleaner surface appearance

using a tile size that's too small creates more grout joints that may make the floor look too busy.
Cost-effective alternative
consumers prefer ceramic tile over stone due to price and maintenance

tile can also be made to feature heavy textures, chiseled and hammered edges, and resemble tumbled stone

tile texture is related to its style

feel of a tumbled stone or slate looking ceramic tile will be irregular and somewhat rough

tile simulating marble or granite will have a very smooth, polished feel

textures also vary in degree of shine, ranging from dull to semi-gloss to glass-like.
Exterior
tile is a versatile product

outdoor tile features non-skid finishes designed for safety

outdoor tile is resistant to frost

tile manufactured for outdoor use has very low water absorption, minimizing the cracking, chipping and other effects of expansion when the temperature falls below freezing.
Customization
manufacturers also offer decorative inserts, medallions and mosaics

tile size 2"x2" and smaller are usually referred to as mosaics

often used with different colors to create a pattern or decorative inset

smaller tiles also come in different shapes, such as hexagon

patterned borders can be made up of different size tiles

variations in color, shape or size can be patterned within a room, or across adjoining rooms

"field tile" -the more prominent tile that is throughout the largest areas

floor and wall tiles may be designed to look similar

floor tiles are generally thicker and are textured to be safer to walk on.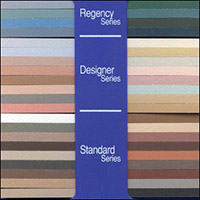 Grout
impacts the overall look

type of cement that is used to fill the space and provide support in tile joints

two types of grout; Portland cement based, and epoxy based

both may have sand added for additional strength

Sanded grout is for tile joints 1/8th of an inch and larger

Unsanded grout is an option used in joints that are smaller than 1/8th of an inch

can be pigmented to many colors, shades and hues

pigment is added to the cement at the job site when the grout is mixed

color and thickness will change the appearance of the floor

white or a light colored grout highlights the color in tile

dark grout with a light tile, or light grout with a dark tile, will emphasize the geometric pattern of your layout.
Sooner or later, time and traffic, life and living, will take its toll on any floor covering. Ceramic tile is no exception.But take heart, keeping your tile as clean and beautiful as its first days in your home just takes know-how. In fact, understanding the best methods to care for your ceramic flooring will help maintain its beauty and keep it close to its original condition. Plus, knowing what's expected of you regarding upkeep can be a determining factor in which type of ceramic tile to purchase. Knowing how to care for and maintain your ceramic floor will help keep your investment beautiful, durable and a source of pride for years to come.
It's important to sweep a tile floor regularly.

Use walk-off mats at all exterior entrances.

Remember to shake the mats often to remove the dirt.

Ceramic tile floors should be damp-mopped regularly using the manufacturer's recommended grout and tile cleaners.
Textured tiles may require mild scrubbing with a soft brush or electric polisher/scrubber.

For soft water situations you may need to use an all-purpose cleaner.

Use cleaning products available from your local grocery store or flooring retailer for heavier cleaning tasks.

Consult the cleaning product's instructions to make sure the cleaning product is compatible with your type of tile.

After cleaning, rinse well and wipe dry

Avoid using steel wool, scouring powders, or other abrasives.

Don't use bleach or ammonia based cleaners.

Do not clean glazed tile with oil-based cleaners.

Try to clean up spills as quickly as possible.

Tile can crack under extreme force or pressure.

Take the proper precautions when moving heavy objects across your tile floor.

Cover furniture and table legs with protectors.

Keep extra tiles after the installation.

Areas exposed to water need to be caulked on a regular basis.

Seal your grout for added protection.
Grout colorants are available for stained, damaged or undesired colored grout.

Consult the manufacturers' recommendations.