Luxury Vinyl Laminate Flooring (LVP/LVT)
If you like the natural beauty of hardwood flooring or stone but want quick and simple installation with minimal maintenance, laminate flooring is your answer. Laminate flooring is easy to maintain with years of lasting beauty. The luxury vinyl tile (LVT) or luxury vinyl plank (LVP) flooring now available is one of our most popular and desired flooring types given the many options in style, durability, and pet and stain resistance. Let's not forget waterproof as well! We carry the top brands including Bliss, Kraus, Meridian, and others!
Our goal is to provide you with quality resilient flooring products that offer a positive and lasting effect on your home. Products that beautify your home, enhance décor, meet your specific comfort, performance and budget needs, are easy to care for, and stand the test of time. To help achieve our goal, we've created a library of resilient flooring knowledge, style choices, shopping tips, buying considerations and upkeep dos and don'ts. It's all conveniently contained in this section of our website.
 Vinyl Brands Carried 

Armstrong
Beauflor
Cortex
Eastern
Resilient Floors
have some "give" or elasticity when you walk across them

often used in kitchens and baths

resistant to moisture

wide variety of colors and textures

easy to keep clean

main enemy is grit or sand

completely customize your floor by mixing contrasting colors patchwork style, creating medallions or curved cuts

some resilient floors are vinyl but not all vinyl floors are resilient

2 types of vinyl flooring: sheet vinyl and luxury vinyl tile (LVT)
Luxury Vinyl Tile / Luxury Vinyl Plank (LVT/LVP)
all the advantages of vinyl

available in a wide array of colors

can look good anywhere

spare tiles can be kept on hand to repair worn areas

opens up unlimited possibilities for creating unique patterns

water resistant
Vinyl flooring
no other flooring offers the selection, styling, ease of maintenance and value

can realistically mimic the look of ceramic, stone and wood grain

linoleum is not a resilient flooring.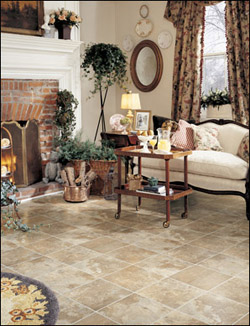 Vinyl Styles
Your style is reflected throughout your home for all to see; in the chairs you bought for the living room and in the artwork displayed on your walls. Your style lives and expresses itself from room to room, indoors and out.
It goes without saying then that your style will also be communicated  through your flooring. To help you find your style of vinyl, we've created these pages. Because the number of vinyl choices, patterns, colors, textures and price points can intimidate even the most experienced shopper. Knowing the basic types can provide you with a firm foundation upon which to begin your vinyl flooring shopping journey.
advanced from that of yesterday
no more shiney floors that easily dent and rip

broad selection of fashionable colors, patterns and textures

new products emulate the look of natural stone, slate or ceramic tile

new productscan fit into any budget

What you need to know:

found in the kitchen, bath or laundry room areas

practical, functional and fashionable

for active households

known to be cushiony and warm underfoot

easier to remove than a grouted ceramic tile or natural stone floor

potentially save you time and money if and when replacement is due
Grades
you get what you pay for

more expensive gets you more versatile patterns, colors and textures

premium wearlayers offer superior resistance to stains, scuffs and scratches

premium wearlayers are enhanced with aluminum oxide providing resistance to scratching

better wearlayers make it easy to clean

better products =  better performance
Size of the pattern
consider the size of the room and the size of the pattern

lighter colors will make a smaller room appear larger

darker colors will absorb the light for a more intimate setting

smaller pattern works well in small areas or in rooms where the pattern will be visually interrupted with pieces of furniture

larger patterns can sometimes actually visually expand a room
Other considerations
consider any printed fabric on your furniture or wallpaper in the room

if fabric or wallpaper is a large-scale print, use smaller patterns for the floor

small-scale pattern in the fabric or wallpaper, use a larger pattern for the floor

selection of gloss levels to suit your needs

lower the gloss level, the more forgiving your floor will be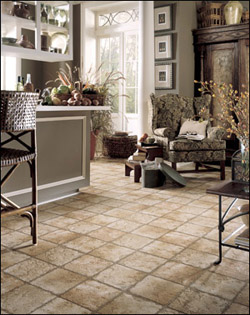 Vinyl Maintenance
Flooring, no matter how new or beautiful, is meant to be walked upon. Vinyl flooring is no exception. Time and the onslaught of foot traffic will most certainly take its toll. But take heart, keeping your vinyl flooring as beautiful and inviting as the day it was installed just requires a little knowledge. So, check out the following advice and be a little smarter about smart and stylish vinyl flooring.
New vinyl floors are extremely durable and long lasting, but like any floor covering they still need regular maintenance to stay looking like new. Follow these general guidelines for vinyl flooring. For more detailed information always refer to the manufacturer's written floor care procedures. You can't avoid wear on your vinyl flooring, but knowing how to care for and maintain it can keep you floor in beautiful condition and make it a source of pride for years to come.
For the first 24 hours after your new vinyl floor is installed, protect all the seamed areas.
Keep the room at 68° F or greater for at least 2 days after installation.
Do not roll heavy objects directly on to a newly installed vinyl floor for at least 5 days.

Allow 5 days before thoroughly washing your floor.

Lay plywood down before moving heavy objects.

Check the condition of rollers and casters before use.

Protect your vinyl floor by covering the legs of furniture with felt protectors.

Remove dust, sand and grit particles.

Don't use a vacuum with a beater bar.

Rinse the floor thoroughly with fresh water after cleaning

Place non-staining, walk-off mats or rugs at every outside entry to your room.

Be sure to avoid using rubber-backed mats or rugs.

Use rugs specially designed for vinyl floors.

For spots or spills, wipe them up immediately.

Make sure the floor's manufacturer recommends the cleaner you are using.

Avoid using abrasive scrubbing tools.

Never use abrasive cleaners, soaps, paste waxes, or solvents on your vinyl floor.

If you purchased a PVC vinyl floor you should consider placing 2-3 coats of the manufacturer's recommended floor polish on the floor immediately.

Cover open seams immediately.

If your floor gets a cut or gouge in it, cover the area immediately and call your flooring professional.

Urethane floors finish can darken over time.

For more maintenance information specific to your vinyl flooring, remember to consult the manufacturers' recommendations.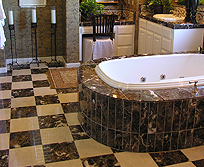 We sincerely look forward to working with you for all your flooring needs. Contact us today for your free estimate.